Investor Relations
Kadant Inc. is a global supplier of high-value, critical components and engineered systems used in process industries worldwide. The Company's products, technologies, and services play an integral role in enhancing process efficiency, optimizing energy utilization, and maximizing productivity in resource-intensive industries. Kadant is based in Westford, Massachusetts with approximately 2,400 employees in 20 countries worldwide.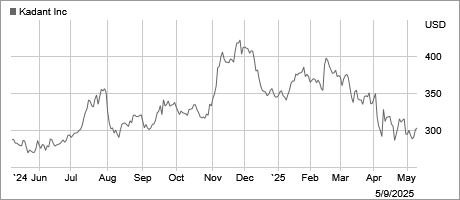 November 15, 2017 at 4:10 PM EST

November 2, 2017 at 2:07 PM EDT

October 30, 2017 at 4:23 PM EDT

October 26, 2017 at 1:02 PM EDT

September 20, 2017 at 4:50 PM EDT

August 14, 2017 at 4:46 PM EDT
Upcoming Events
More events are coming soon.
Past Events
Nov 9, 2017 at 1:30 PM CST
Jonathan Painter, Kadant Inc.
is presenting on: Thu, Nov 9 at 1:30-1:55 PM in Session IV - LaSalle Room, 7th Floor (breakout at 2:00-02:15 PM)
Oct 31, 2017 at 11:00 AM EDT
Aug 1, 2017 at 4:30 PM EDT